Reception Auctions Darley Avenida Menéndez Pidal 13
Auctions Darley takes the final step, becoming the largest auction room in the Mediterranean and possibly the Spanish State. New High-level facilities and a little more than a thousand square meters Aimed alone, 365 days a year. Avenida Menéndez Pidal 13 of Valencia.
Naturally, it has Administration and Accounting offices, a Meeting Room, a photographic and Gemological laboratory, toilets adapted for disabled people, The Exhibition of watchmaking and jewelery is arranged in a room fully equipped as a jeweler.
We have a large area of ​​vault and security boxes, both separate, for use and delight of its customers, has a level: security equal to or greater than banking entities, this space is destined a deposit and storage of pieces of Great High Level and Special Services for Our Clients.
The warehouses ARE divided into two differentiated areas, both fully protected.
Warehouse general or vertical, equipped with three heights with lifting platform, for the Disposition of all types of goods for storage waiting to be valued and auctioned.
There is also an extraordinary warehouse equipped specifically with a large storage system with sliding panels in the form of an accordion for depositing tables. This system protected to the work. Completely, does not originate any type of contact. Among them, the protected from bothCanvas and frames, without any kind of Wear or rubbing of a works. Completely built in steel, The Opening System in the form of an accordion guarantees that the deposited works are much safer since it is not possible to manipulate said works without having to move the structure. Only comparable with Systems Destined to Museums.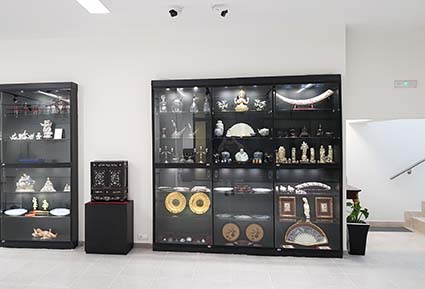 View showcases room Auctions Darley
Two rooms of approximately two hundred meters squared destined to Art Gallery and independent of the auction room. The latter is also equipped to transform itself into an exhibition hall of approximately 800 square meters.
Auctions Darley has thought a lot about its customers. It has a beautiful area of ​​rest and relaxation for your enjoyment, an elegant private cafeteria to give service to customers and the possibility of catering for events.
The auction room has a beautiful VIP room, ready to offer the best comfort for the stay to large collectors, personalities or authorities.
All this in almost two thousand square meters in the same center of Valencia just in front of the Valencia Institute of Modern Art IVAM, next to the English Court of New Center and guarded by two large hotels, Hotel NH Valencia Center and Hotel Turia, both walls with wall of our facilities. Opposite we have a large area of ​​gardens to enjoy the largest green area of ​​the city of Valencia and less than fifty meters the best shopping center in the city, New Center with all kinds of restaurants and shops, Parking, etc. Naturally, we do not even have to say that we have buses to all of Europe in the same building. There is also a Taxi stop just in front of one of the accesses to the Auction room, and finally, the journeyfrom the auction to the airportis very simple and close.
The building where the Darley Auction Room Avenida Menéndez Pidal 13 of Valencia is located, is protected 24h a day by private security agents. It consists of permanent offices of the National Police and all this is topped with a last generation system installation maximum level of security in all our facilities.